Main Content
Slideshow

Get in Touch - Welcome
Get In Touch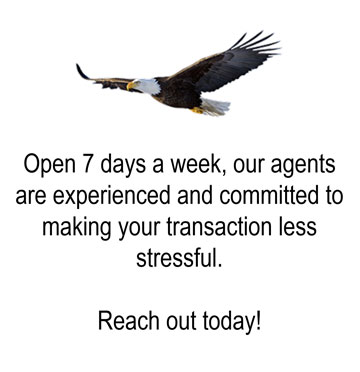 Eagle Ridge Realty, Inc.
Mark G Sumpter
Designated Managing Broker
412 S Main Street, Galena, IL 61036
5148 US Highway 20 West, Galena, IL 61036
(LOCATED AT THE ENTRANCE OF THE GALENA TERRITORY)
Eagle Ridge Realty
Eagle Ridge Realty is the Original Real Estate Agency of The Galena Territory.
Eagle Ridge Realty has been in Business for over 30 years, with over 100 years combined experience!
Whether you're looking to Buy or Sell, we are here to help you with your Single-Family Home, Second or Vacation Home, Condominium or Townhome, Vacant Homesite, or Commercial property transaction.
We can provide service anywhere in the Tri-State area (Jo Daviess County, Galena, IL, The Galena Territory, Wisconsin or Iowa).
We are here to serve your needs and minimize the stress from your transaction.
Featured Properties - Featured Communities - Quick Search
Located at the Entrance of The Galena Territory
412 S Main Street, Galena, IL 61036
5148 US Highway 20 West, Galena, IL 61036
LOCATED AT THE ENTRANCE OF THE GALENA TERRITORY
Recent Posts - Testimonials - Areas of Expertise
Testimonials
We never really believed in so-called real estate experts until we were introduced to Davis Signature Homes. Like magicians, they made all of our drea... Read more

- Bryan Cooper

We never really believed in so-called real estate experts until we were introduced to Davis Signature Homes. Like magicians, they made all of our drea... Read more

- Debra Miller